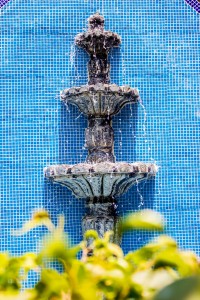 Welcome to the Casa de los Monos Inn website. Located in the Northern side of Banderas Bay - directly on a sandy and soft beach with miles of easy walking in each direction along the ocean. This fishing village continues its tradition, and at 4:00 in the morning the fishermen can be seen leaving the beach in small boats.
The construction of Casa de los Monos Inn -which is actually a Spanish style Villa with a real Castle feel- took 20 years. It is made entirely of sand, ocean rock, marble, and the walls surrounding the property are three feet thick and 15 feet high.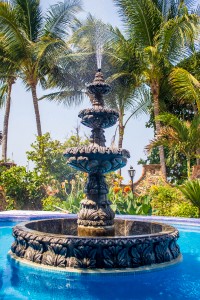 It was built by a Cuban Physician named Dr. Jose Vicente Angel for his 8 children and countless grandchildren as a re-creation of the Spanish castles that line the Cuban beaches. With a climate and ocean and beach that are all almost identical to those of Cuba, it was as close as Dr. Angel could come to giving his children back a free Cuba. The Angel family continues to cherish the villa and have opened its amenities to others who cherish old world charm and value.
Those seeking peace, tranquility, intimacy and relaxation through old world architecture and atmosphere have come to regard Casa de los Monos as a haven where they may escape the modern world.
Welcome, we are a family friendly Inn, pets are welcome, just as much as children. We also have accomodations for travelers with disabilities.